Introduction
Pace is a leading Human Resource Solutions provider offering practical long term solutions to clients in the areas of Recruitment -Permanent Staffing, Contract Staffing & Outsourcing. We are a premier provider of senior-level Executive search and leadership consulting services. Our success stems from sourcing the very best to work for our clients. Our goal is to provide a service that places our client's needs and our candidate's careers above everything else.
Pace's executive recruiters are skilled in the assessment of the executive employment market and provide you with the most qualified candidates. We help recruit the best executive talent in the market. PACE recruiters conduct executive and mid-level management searches both locally and nationwide and across industry verticals. We remain focused and updated on the new hiring methodologies to suit the ever changing situations and requirements in the market.
Is there a return on investment (ROI)
Outsourcing all or parts of the recruitment process to a recruiting partner means you need to trust that the partner will deliver on their promise to find you the right hire. Working with a professional agency like Pace with years of experience in the field will help you save a lot of time and effort. The committed team will ensure that there is an enhanced quality of new hires.
Our Service Offerings
HR Services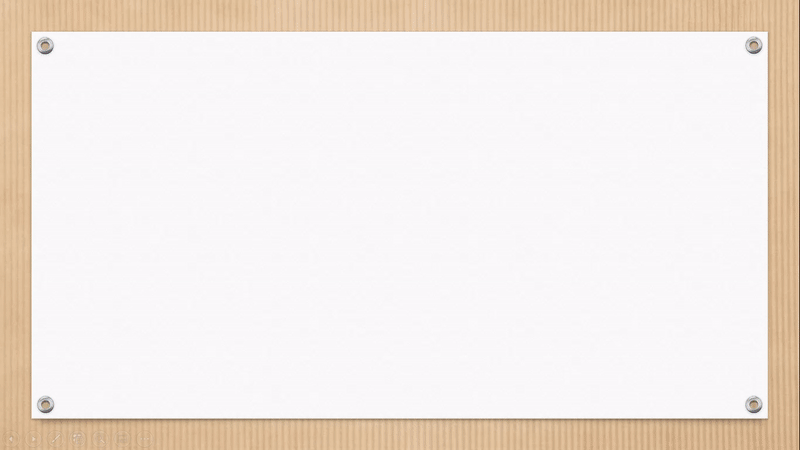 CXO -Search Services(Executive Search)
…because the World Needs Great Leaders!!!!
At PACE Global HR Consulting Services, we know what great leaders can achieve. We empower our clients to drive positive changes through effective leadership. Each search engagement is customized to the specific objectives and dynamics of your needs. It is almost impossible for an organization to recover from the mismanagement that comes with poor leadership . There is always an overwhelming pressure to find leaders who have the skills and experience necessary to succeed, who are able to define and advance corporate strategy and simply fit in with the organizational culture. Our executive search services identify these unique leaders, determine their ideal organizational fit and subsequently build appropriate frameworks for their compensation and retention.
Success is not simply the placement but rather the long-term business impact a great leader can bring about. Pace's commitment to the client does not end when we place a candidate. It helps create a favorable environment within the organization to ensure optimum results . As the journey continues, we help to unlock the potential in individuals with proper team management. An executive search is carried out to find candidates who are suitable for senior executive roles. Executive search is very different from regular recruitment because a large amount of money and time goes into such recruitments. A recruiter who is doing an executive search is expected to pre-assess & screen candidates. This is done to ensure that only high-quality candidates get to meet the client.
Recruitment
Talent is always in high demand. As we enter a new era of work, talent acquisition, talent recruitment, and talent retention have become a priority for every business. To handle the evolving needs of the hiring manager and facilitate a shift in focus to skills over more traditional role-filling, new team structures have been set up. Their focus is on creating talent management strategies to attract people with the requisite skills to drive their organizations into the future. These teams combine many of the core competencies of human resources: talent recruiters, talent acquisition specialists, talent acquisition recruiter, hiring managers, and HR professionals. They are responsible for the entire talent management process from sourcing, interviewing, hiring and finally onboarding the successful candidates.
Talent Acquisition Process @ PACE
Recruitment Process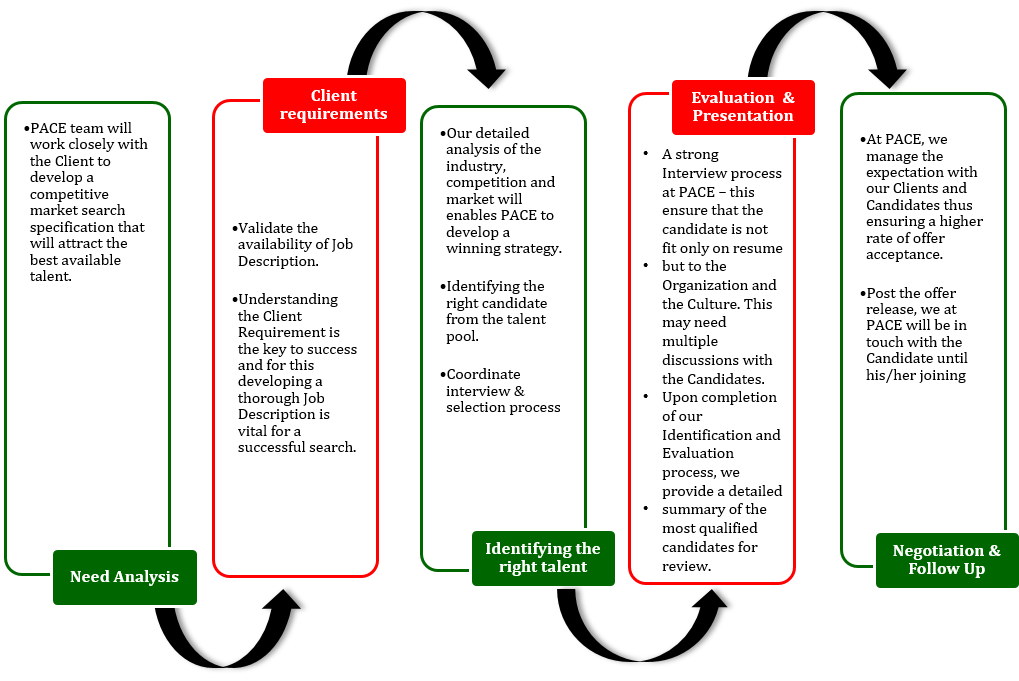 Effective Hiring – Series of Steps
Need Analysis:

PACE team will work closely with the Client to develop a competitive market search specification that will attract the best available talent.

Job description:

Validate the JD(Job Description) as made available.

Client Requirement:

understanding the Client Requirement is the key to success and for this a thorough Job Description is vital for a successful search.

Identification:

Our detailed analysis of the industry, competition and market enables PACE to develop a winning strategy.

Evaluation:

A strong interview process at PACE – this ensures that the candidate is evaluated personally and not deemed fit based only on the resume in hand . A complete and thorough selection may need multiple discussions with the candidates.

Presentation:

Upon completion of the identification and evaluation process, we provide a detailed summary of the most qualified candidates for review.

Negotiations:

At PACE, we manage the expectations of both our Clients and Candidates thus ensuring a higher rate of offer acceptance.

Follow Up:

Post the offer release, we at PACE continue to be in touch with the candidate until she/he joins the organization.
Why PACE
The PACE recruitment team combines strategy, expertise, efficiency and support from the industry's thought leaders covering all aspects of talent acquisition. Customized solutions are integrated with talent acquisition strategy, global recruiting resources, competency-based methodologies, and a flexible service delivery model thereby enabling clients to identify, attract and retain talents.